Riders Make Memories at 2022 Marshall and Sterling Insurance League Finals
Saugerties, N.Y. – September 18, 2022 – The 2022 Marshall & Sterling Insurance League Finals brought together talented horses and riders from all over the country as they showcased their skills in the 22 divisions featured throughout the week. Saturday marked the conclusion of hunter competition as well as the presentation of the Best Adult Rider, while Sunday rounded out the Medal Finals and best Junior Rider Awards.

Fifty-two riders gathered at the Grand Prix Stadium for the Pyranha Children's Horse Medal Final. The field was carefully narrowed down, and after returning for the final round in the third-place position Samantha Smith and Jethro stayed hoof-perfect to eventually claim the winning title. 


Samantha Smith and Jethro. Photo by ESI Photography
"Today's accomplishment was about everything I was taught by two wonderful, incredibly knowledgeable people leading up to the win," noted Smith. "My horse, Jethro, gave me his all and I was finally able to display what was instilled in me over the years by my trainers, Randi and Shelby Cashman. Today is their win as well as mine. I'm forever grateful."

On Saturday, Annie Goldstein rode Fifth Street to the Dover Saddlery Adult Medal Final victory, as well as the Best Adult Rider title. "[This win] was really special to me," she said. "This was my third show with [Fifth Street] and we're just still getting to know each other. We've been practicing [the equitation] to become a more well-rounded rider, so it was meaningful to me because I feel like the work that we've been doing with my riding is paying off."

Goldstein added, "The Finals are so well run, everything is made special. No matter what you place it's a big deal.  It's just so fun – I love this show!"


Annie Goldstein and Fifth Street. Photo by: ESI Photography
The biggest hunter title of the week was won by Emma Whidden, who claimed the Grand Hunter Championship after winning the Children's 14 & Under Hunter Horse Championship. "It was really special winning on my horse, Zofia Cor," she expressed. "I grew up watching my older sister ride Zofia, and always looked up to how successful they were together. Now that it is my turn to ride her, we have been working hard this year to qualify and compete at Finals. Earning Grand Champion meant a lot to me because our rounds the past two days have shown how much we have improved since February!"


Emma Whidden and Zofia Cor. Photo by: ESI Photography
Whidden concluded, "Marshall and Sterling Finals holds a special place in my heart because I have been coming here ever since I was 10 years old. Looking back now, I would never have imagined competing with Zof here, let alone being Grand Champion. I am so grateful for my horse because without her none of this would be possible."

While the 2022 Marshall & Sterling Insurance League Finals have come to a close, qualification for the 2023 season is already underway. Make sure to submit your membership today and start earning points now! Exhibitors can also join HITS in Ocala, Florida, for the 2023 winter show season at HITS Post Time Farm. For more information and the complete class listing visit www.hitsshows.com.
2022 Marshall and Sterling League Finals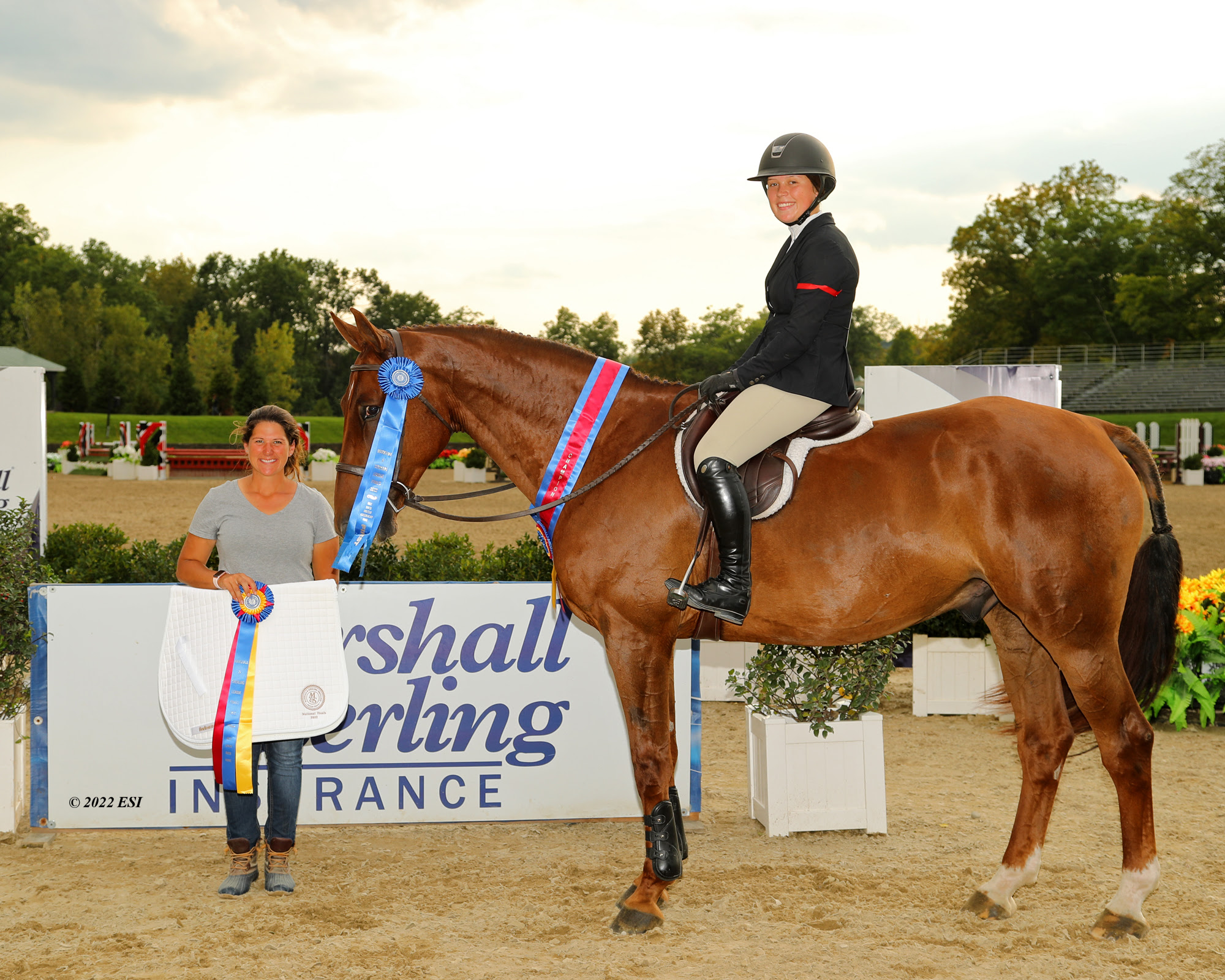 Best Junior Rider - Horse
Winner: Maci Iddings & Alistair
M&S Junior/Amateur Horsemanship Final
Winner: Maci Iddings & Alistair
M&S Junior Medal Final
Winner: Nicole Golia & Royal Intuition
Best Junior Rider - Pony
Winner: Kenzie Smith & Bayberry
M&S Children's Small/Medium Pony Medal Final
Winner: Kenzie Smith & Bayberry
M&S Children's Large Pony Medal Final
Winner: Serena Theodoracopulos & Rashinga
Novice Adult Hunter Classic
Amanda Zwaan & Yoshi

Children's 15-17 Hunter Horse
Champion: Bianca Salituri & Chantilly 
Reserve Champion: Katia Holmes & Golden Boy 

Children's Large Pony Hunter
Champion: Wyatt Rofey & Garden Party
Reserve Champion: Eliana Klane & Colorful Scenario

Children's Medium Pony Hunter
Champion: Samantha Teller & Enchanted
Reserve Champion: Greta Holmes & Dragonfly

Children's Small Pony Hunter
Champion: Kenzie Smith & Love Me Too
Reserve Champion: Madison Kaplan & Rags to Riches

Novice Children's Hunter Classic
Ally Ervin & Crystallo C